Jennifer Aniston is no fan of Angelina Jolie, but she does appreciate her flair for fashion!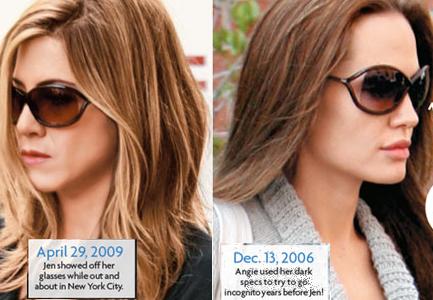 The Management actress has been sporting an updated pair of the Tom Ford sunglasses Angelina first made famous in 2006. But unlike the divas' battle over Brad Pitt this fight is more flattering than unfriendly.
"Jen admires Angie's style because she feels it's elegant and not too trendy," a source tells Star of the reason Jen would be willing to get caught copying her archenemy. In fact, Jen loves the glasses so much that she wore them on the New York City set of her movie The Baster even when it wasn't sunny. And there may be a bigger reason behind her obsession with the shades!
Adds the source, "She likes them because they make her nose look smaller."
Meanwhile, Jennifer Aniston saves messages from her old boyfriends.
The actress – who was previously married to Brad Pitt and has also dated singer John Mayer, model Paul Sculfor and actor Vince Vaughn – finds modern technology has changed dating styles and admits she pines for the old fashioned approach to romance.
She said: "I am not an internet person and it's so unreal to find an honest person online.
"I loved it when we used to have an answering machine – it was great to check your messages over and over again. By the way, I still have those tapes of messages. I like saving them."
The 'Management' star also insists honesty is the key to a good relationship.
When asked what it takes to make a relationship work, she replied: "Be honest. We have to let guys know who we really are. And set your boundaries – tell it like it is. Men are not mind-readers you know. Being honest is a time saver."
Comments
comments