Fresh off Jennifer Aniston's most recent breakup with John Mayer, it has reported that the actress is vowing never to marry again.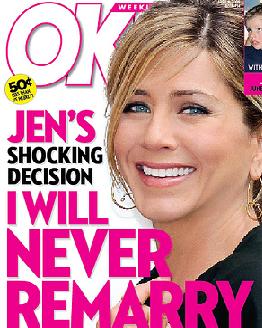 Insiders revealed that Jen, now in New York City to shoot her new film "The Baster", has experienced a stark epiphany: No man can live up to her former husband, Brad Pitt, whom she divorced in 2005.
A source revealed: "Ever since Jen and Brad split, she has tried desperately to find another man who would win her heart and be the husband she's always dreamed of. But she now realizes that Brad's shoes are impossible to fill."
When Brad moved into a successful — and fruitful — union with Angelina Jolie, Jen saw no reason why she couldn't do the same.
What followed was a well-publicized string of disappointments: actor Vince Vaughn, 39, her co-star in 2006's The Break-Up; British model Paul Sculfor; and then 31-year-old rock star boy-toy John.
A source continued: "Jen put so much of herself into those relationships, only to have all three end in heartbreak."
The plot of The Baster — a single, 40- year-old woman resorts to artificial insemination to get pregnant — is appropriate for Jen, who may be swearing off marriage but not motherhood.
"More than anything, Jen wants to be a mom," says the source. "She has dreamed of having a child ever since she was a little girl, and the fact that she may not have a partner isn't going to stop her from realizing that dream."
Read all about how Jen plans on starting her own family — with or without a man, in the new issue of OK! magazine, which would be on sale everywhere Thursday.
Comments
comments