Jennifer Aniston, who previously attended Ray LaMontagne's concert at The Wiltern with John Mayer, has nothing but compliments for her "Marley & Me" co-star Owen Wilson.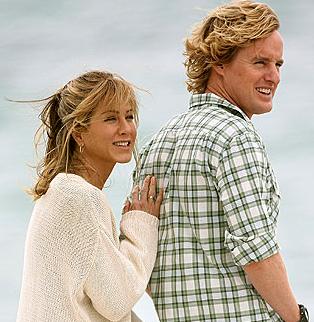 The "Break-up" actress revealed: "Owen Wilson is so divine in this film. I've never seen him play a part like this. He was a man; he was a husband; he was a father."
On Owen Wilson's personal struggles, the actress continued: "I feel like, how brave of him, to walk through the year that he walked through."
Owen Wilson was hospitalized in 2007 for an apparent suicide attempt after his recent split with Kate Hudson. "Marley & Me", expected to hit the cinema on Dec. 25, is one of his first roles since the incident.
Jennifer Aniston described Owen Wilson as an amazing co-star, saying,"He has no temper, no ego, he's collaborative and funny and sweet."
Her other co-star, a yellow lab named Clyde, was not as kind. The actress explained: "I walked onto the set and put my sweater and my bag down on the couch, and that dog leap up onto the couch, grabbed my sweater and started ripping it. The set was a toy."
The 39-year-old actress revealed that her upcoming film has a great working environment and a great finished product as she added: "When you actually can have [the finished film] be as fantastic and fulfilling as the experience itself was, it's called a home run. A creative, emotional home run. Those moments don't happen that often."
Comments
comments