Jennifer Aniston has been sent text messages by Angelina Jolie demanding she 'back off', a report claimed today.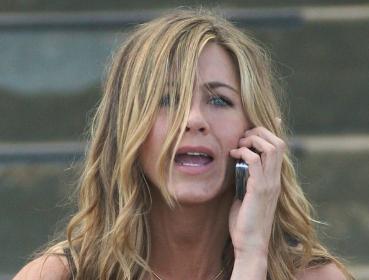 The "Tomb Raider" actress allegedly disapproves of the continuing closeness of her husband Brad Pitt, 45, and his former wife.
'Insider reports' are quoted in Look magazine today claiming that Jolie had sent the warnings via Pitt's mobile – and signed them off with her initials, AJ.
A separate report in Now claims Aniston, 40, has been sending presents to Pitt's office in an attempt to stay friendly in case his relationship with Jolie breaks down.
The pair have six children together but Aniston,who split from Pitt four years ago and has failed to put together a lasting romance since, is apparently not worried her gestures might cause problems.
"Jen is such a thoughtful person," says the unnamed 'insider' "She sends little gifts to his Plan B production offices in LA if she spots something he might like.. And she'll send him daily motivators – quotes from self-help books she reads about staying positive. It must really lit his spirits."
Meanwhile, busy Jennifer started filming The Bounty Hunter last week, just days after she finished shooting another new movie The Baster.
The actress has spent the past few months on location in her native New York filming The Baster alongside Jason Bateman.
In it, Jennifer plays a woman who uses a turkey baster to become pregnant, and finds out years later that her male best friend replaced her chosen sperm sample with his own.
Contrary to these latest magazine claims, reports in the States suggest she's dating her She's Just Not That Into You co-star Bradley Cooper.
Jennifer and Bradley were spotted enjoying a date in Italian eaterie Il Cantinori in Manhattan last week.
Bradley, who insisted he was single, said he found the reports linking him to Jennifer 'flattering'.
He did say he was looking for a woman who has 'humor, a great personality, intelligence, inner and outer beauty and she has to like my dogs. My dogs and I come in a package'.
Jennifer's dates with Bradley come three months after she ended her on/off relationship with singer John Mayer.
Comments
comments