Jennifer Aniston was considered the top-selling U.S. magazine face.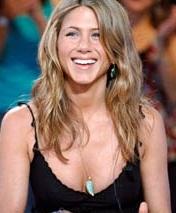 According to a website, "Appearing on every title except 'In Touch' at least once during the time period (January-June), her face collectively sold more than five million copies."
Her former husband Brad Pitt did not stay behind as the actor landed second place among the most published faces in celebrity magazines. Actresses Scarlett Johansson, 22, Angelina Jolie, 32, and 2006 Oscar-winner Reese Witherspoon, 31, were third, fourth and fifth, respectively.
After Jennifer Aniston and Brad Pitt got divorced, the "Babel" actor struck up a relationship with Angelina Jolie.
Candance Trunzo Star magazine editor, revealed something about Jennifer Aniston, "She's the classic wronged woman. I think that most women can relate to and empathize with someone that was so in love with a man who, in an incredible Hollywood twist, leaves her for his co-star in a film."
Britney Spears, who was placed on the last spot, has appeared on 18 magazine covers, but sold 600,000 copies below her usual average during the period studied, according to the report.
Comments
comments