Lawyers, who are representing the Prince Charles, his two sons and their respective girlfriends have threatened to seek redress under the Human Rights Act to keep Kate Middleton out of the line of sight of prying paparazzi cameras.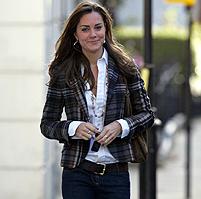 The threat was indicated in a letter to the Press Complaints Commission (PCC) by the lawyers, Harbottle and Lewis.
As a result, the press watchdog has now conveyed to the press that it will resort to legal action if paparazzi don't leave the likely future queen alone.
Harbottle and Lewis claim to possess "disturbing" footage of paparazzi activity outside Middleton's London home, in support of their complaint.
A senior industry source revealed, "If they go down this route they would be seeking unprecedented protection for Miss Middleton. Essentially, they will be trying to guarantee that photographs of Miss Middleton can be taken only on her terms. I am afraid it does not work that way."