Jennifer Aniston had no idea she would be upstaged by the dogs in her new movie.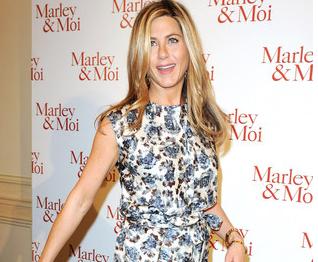 The 40-year-old actress admits she and Owen Wilson often struggled to steal the limelight from their canine co-stars while filming romantic comedy 'Marley and Me'.
Speaking about the character of Marley, Jennifer joked at the UK premiere of the film in London's Leicester Square last night (02.03.09): "They didn't warn us about that. Those dogs in the movie were really good!"
Owen, who looked dashing in a dark grey Burberry suit, laughingly revealed the dogs didn't always behave themselves during filming.
He explained: "There was one scene where one of the Labradors kind of lifted his leg and he wasn't supposed to."
Owen – whose own pet Garcia had a cameo in the movie – insists he and Jennifer enjoyed working with the loveable animals because they are both dog owners.
He explained: "I had a real soft spot for Copper, who was a 25-year-old Labrador. But they all did great."
Both stars braved chilly temperatures to sign autographs and pose for photographs with fans.
Jennifer – who was wearing a blue floor-length strapless Burberry dress and Azzedine Alaia high heels – didn't stop shivering until she slipped on a black Burberry fitted jacket.
The former 'Friends' actress revealed she hopes to work with Owen, also 40, again in the future.
Speaking about a possible collaboration, Jennifer said: "That would be nice. We had a great time."
"Marley and Me," which was based on the best-selling autobiographical book by John Grogan, tells the story of a young married couple who end up buying a puppy which they soon realise is the "world's worst dog".
Comments
comments