Kate Middleton takes aim as she goes deer shooting with the Royals for the first time yesterday.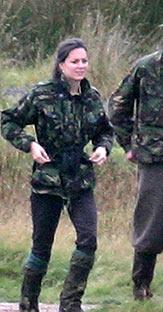 The girlfriend of Prince William, who wore camouflage gear and aiming a fearsome hunting rifle in the prone position, was being coached before joining the main deerstalking party on the Queen's Balmoral estate. She fired at a practice target.
Her presence on the Highlands shoot is the clearest sign yet that the 25-year-old fashion buyer has been fully accepted into the Royal inner circle.
Kate is spending a private weekend with William at his Balmoral cottage, just a few minutes away from Birkhall. It is part of an effort to pursue their revived romance away from public attention.
The 120-year-old former gamekeeper's cottage, which is equipped with a large round bath-for-two, is hidden away and boasts impressive views over the rugged Highland estate. The pair has been in Scotland since Thursday.
A spokesman for Prince Charles revealed, "We do not act for Ms. Middleton and so we have no comment to make. What the Royals do on the Balmoral estate is a private matter."
Comments
comments