Jennifer Aniston, who graced the cover of U.S. Vogue for its December issue, gives a searing condemnation of her notorious nemesis – Angelina Jolie.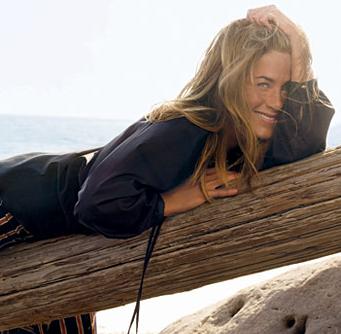 In the forthcoming issue of U.S. Vogue, the 39-year-old actress broke her silence over their four-year feud as she icily described Angelina Jolie as 'uncool' for talking about how she fell in love with her husband while they were making a film.
The actress has nothing but admiration of her former husband Brad Pitt and says she still 'deeply, deeply cares about him.'
A source revealed: "This interview shows that Jennifer is no longer afraid of Angelina. It's hugely significant."
Jennifer Aniston also revealed that she had no idea her husband was falling in love with Angelina Jolie as they filmed "Mr. and Mrs. Smith" in 2005.
The actress only found out the truth only two years ago after Angelina Jolie gave an interview to Vogue magazine about how affair with Brad Pitt began, saying: "There was stuff printed there that was definitely from a time when I was unaware that it was happening. I felt those details were a little inappropriate to discuss."
She shook her head in disbelief when she added:"That stuff about how she couldn't wait to get to work every day? That was really uncool."
According to the "Break-up" actress, a cartoon in which Jennifer is pictured pointing a shotgun at Jolie after the actress suggested they meet was one of the 'funniest things' she had ever seen.
She also talks about her current relationship with singer John Mayer, former boyfriend Vince Vaughan and her desire to have children.
On Brad Pitt, she revealed: "I have nothing but absolute admiration for him, and I'm proud of him. We have exchanged a few very kind hellos and wishing you wells and sending you love and congratulations on your babies."
On the divorce, she continued: "Well, it never was that bad. I mean, look, it's not like divorce is something that you go, "Oooh, I can't wait to get divorced!" It doesn't feel like a tickle. But I've got to tell you, it's so vague at this point, it's so faraway in my mind, I can't even remember the darkness."
She explained: "I mean, in the end, we really had an amicable split. It wasn't mean and hateful and all of this stuff that they tried to create about Brad can't talk to Jen and Jen can't talk to Brad because this person won't allow it. It just didn't happen. The marriage didn't work out. And pretty soon after we separated, we got on and we had a long, long conversation with each other and said a lot of things, and ever since we've been unbelievably warm and respectful of each other. Whoever said everything has to be forever, that's setting your hopes too high. It's too much pressure. And I think if you put that pressure on – yourself – because I did! Fairy tale! It has to be the right one! – that's unattainable."
On being unlucky in love, she declared: "This whole "Poor lonely Jen" thing, this idea that I'm so unlucky in love? I actually feel I've been unbelievably lucky in love. Just because at this stage my life doesn't have the traditional framework to it – the husband and the two kids and the house in Connecticut – it's mine."
She insisted: "It's my experience. And if you don't like the way it looks, then stop looking at it! Because I feel good. I don't feel like I'm supposed to be any further along or somewhere that I'm not. I'm right where I'm supposed to be."
On her former boyfriend Vince Vaughn, she called him as "my defibrillator."
She explained: "He literally brought me back to life. My first gasp of air was a big laugh! It was great. I love him. He's a bull in a china shop. He was lovely and fun and perfect for the time we had together. And I needed that. And it sort of ran its course."
On current boyfriend, singer John Mayer she said: "We care about each other. It's funny when you hit a place in a relationship and you both realize, "We maybe need to do something else," but you still really, really love each other. It's painful. There was no malicious intent. I deeply, deeply care about him; we talk, we adore one another. And that's where it is."
On having kids, she added: "I've said it so many times: I'm going to have children. I just know it."
Comments
comments