Jennifer Aniston is set to produce a period musical about a group of singing prisoners who formed one of America's first all-female country and western acts, according to a report.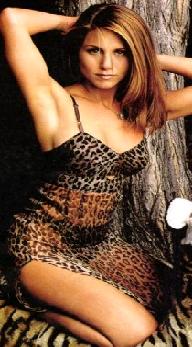 The actress may even star in the planned film, Goree Girls. It is claimed that the Dreamworks studio is behind the potential forthcoming flick, which will be based on the true story of eight female prisoners who served time in Texas' Goree Prison during the 1940s.
The unique singing group were eventually pardoned after finding fame, the magazine reports.
Screenwriter Margaret Nagle, who wrote the upcoming film The Lost Boys of the Sudan, is rumored to be penning the script for latest project of Jennifer Aniston.
Meanwhile as Jennifer Aniston's film career goes from strength to strength, a new report claims that her former husband Brad Pitt is urging the actress to dump her new beau.
Star Magazine reports that Pitt called his former wife urging her to finish with British model Paul Sculfor, believing him to be no good for her.
Perhaps Pitt was stirred into action after People Magazine reported that former Essex brickie Sculfor is an old friend of Victoria Beckham –a fact that emerged after the pair were spotted having dinner in Los Angeles over the weekend.
A representative for Beckham told the magazine Sculfor was a former boyfriend of a friend.
Comments
comments