Jennifer Aniston has told friends she'd like to get back together with ex-husband Brad Pitt.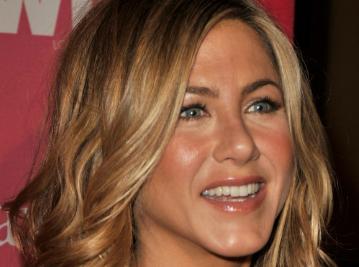 The former Friends star has been providing a shoulder for Brad to cry on as his relationship with Angelina Jolie hits breaking point — and Aniston has started to realize she still has feelings for the actor.
"I think Jen has been a real source of comfort for Brad since he started having problems with Angelina," an insider told British magazine Look. "They've rekindled their friendship, mostly through emails, texts and the odd telephone conversation.
"They even met up face-to-face in New York a few weeks ago when Jen was filming The Baster there."
It was recently reported that Brad and Jen — who divorced in 2005 after five years of marriage — spent more than two hours together — alone — at the Gramercy Park Hotel in Manhattan. However, these claims were denied by Aniston's rep and the hotel.
"I don't think Jen ever really got over Brad," the source continues. "There are so many factors that have hampered her. Firstly, she can't seem to escape seeing Brad on the cover of countless magazines. And in every interview she does about a new movie she's promoting, she's asked about him and how she feels about their divorce.
"She's had a few relationships, and she seemed serious about her last boyfriend, John Mayer, and recently enjoyed a casual hook-up with Bradley Cooper, but none of them worked out.
"Jen has also stayed in contact with Brad's mom, Jane. It was through her that Brad discovered how upset Jen actually was after they split up. I think he'd always figured she had coped so well because she seemed so upbeat, but six weeks ago, Jane told Brad the truth."
Brad then called Jen to apologize, according to the source.
"It was exactly what Jen needed to hear," dishes the insider. "It's true she cried a lot of tears over Brad and Angelina's relationship. I think Jen always knew that while Brad acted in a hurtful way, it was more him being thoughtless rather than hurting her on purpose. But it was still nice to hear from him."
Jennifer, 40, is said to pining for a reunion with Brad — and her friends are worried!
"It's a dangerous way for Jen to be thinking," the source adds. "Brad and Angelina's rep has denied they are splitting and even if they do, Brad would still be a dad of six and, as their mother, Angelina would be a permanent fixture in his life.
"But Jen has always been upfront about her feelings, and if she still loves Brad she'll be honest about it.
"Her close circle of friends are absolutely stunned that Jen says she'd like to get back with Brad. They knew she was still incredibly fond of him but they thought she had moved on emotionally. Their advice to Jen is to slow down and take a step back. I think they hope this will just be something that she eventually realizes is a crazy thought.
"Brad and Jen's marriage was not working a long time before Angelina came along. But it seems Jen is looking at it all through rose-tinted glasses. She seems to really have her heart set on them getting back together."
Meanwhile, Jennifer Aniston arrives at the Women In Film 2009 Crystal And Lucy Awards at the Hyatt Regency Century Plaza Hotel on Friday (June 12) in Century City, California.
The 40-year-old former Friends actress paired her strapless Prada mini with simple Azzedine Alaia heels. Jen accessorized with Fred Leighton diamond earrings and ring.
At the ceremony, Aniston was awarded the evening's top award, The 2009 Crystal Award. WIF is a non-profit organization dedicated to helping women within the global entertainment, communications and media industries and to preserving the legacy of women within those industries.
Comments
comments