Hollywood actress Jennifer Aniston is set to earn $20 million for a sequel to "The Break-Up".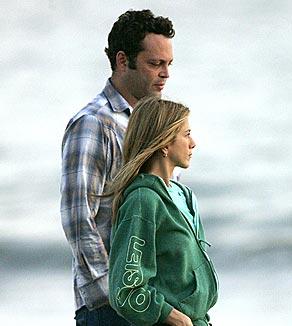 The former "Friends" star, which starred in the film "Break-up" alongside Vince Vaughn, is considering starring in a follow up with Vince. The Hollywood pair began dating after falling for him on set in the 2006 film.
A source revealed: "Both Jennifer and Vince have been offered the chance to star in the sequel. As Jennifer is now such a huge star, she has been offered $20 million to do the film, while Vince has been offered less. Both of them are seriously considering it."
The original movie tells the story of Brooke and Gary – a couple who are living together but separate after a bitter argument over Gary's immaturity.
However, when the film was first shown to test audiences, studio executives were forced to re-shoot the ending because viewers felt it was too depressing.
The movie finishes with Brooke and Gary accidentally meeting again, and sees them have a friendly conversation with the promise of meeting up again in the future.
Jennifer and Vince continued dating after they finished shooting the film but split in December 2006. The 39-year-old actress has since been romantically linked to Paul Sculfor, Gerard Butler and John Mayer.
Comments
comments