Vanessa Hudgens and Ashley Tisdale were spotted as they flaunted their fashion style at the German premiere of the "High School Musical 3: Senior Year" on Sunday, October 5.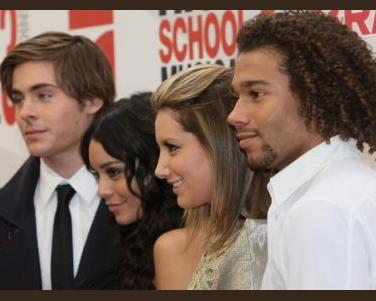 The "High School Musical 3" stars attended the red carpet as part of the European promotional tour for the film.
Vanessa Hudgens, who previously bought 2.75 million mansion, was elegantly dressed in a strapless snake print maxi dress with a ruched bodice.
The actress accessorized her elegant dress with a long bead necklace, a chunky three tier bead bracelet on her left hand, a thin bead bracelet and a bangle bracelet on her right hand, a gold ring on her right hand ring finger and black strappy heels.
Her signature hairstyle was also flaunted on the red carpet – dark wavy long hair styled with a middle parting cascading down her shoulders.
Ashley Tisdale was wearing metallic Vivienne Tam mini dress with puffed short sleeves and cutwork overlay detailing in the front. Her dress emphasized her curves and long legs in a She accessorized with stud earrings, a ring each on hands, a glittery box clutch and metallic silver peep toe pumps.
She sported shorter and darker hair, styled half up and half down. Her smoky aye makeup did not take away the focus from her nude pout.
Zac Efron and Corbin Bleu also graced the event.
Meanwhile, Ashley and Vanessa reprise their roles as Sharpay Evans and Gabriella Montez in "High School Musical 3: Senior Year", which is slated for release on TV and in theatres on October 24.
In the story, the characters are now high school seniors. Troy Bolton (Zac Efron) and Gabriella Montez (Vanessa Hudgens) are facing the prospect of being separated from each other as they go off in different directions when graduating from East High. Together with the rest of their Wildcat friends, including Sharpay Evans, Ryan Evans, Chad Danforth, and Taylor McKessie they stage an elaborate spring musical reflecting their experiences, hopes and fears about the future.
Comments
comments