At Monday night's premiere of "He's Just Not That Into You", Jennifer Aniston, 39, turned into quite the relationship expert, giving advice to ladies on the red carpet.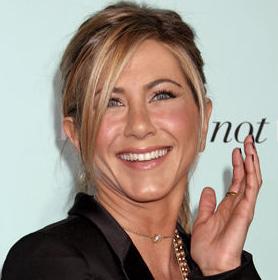 The super hot actress beams at the Hollywood premiere of He's Just Not That Into You at Grauman's Chinese theater on Feb. 2.
When asked the former Friends star whether she believed in Googling a guy before a first date, to which Jennifer Aniston responded: "You can, but then it's not blind. But you know he's Googling her, so you may as well."
As for kissing on the first date, she said: "If you feel it, do it!"
And as for who should say 'I love you' first in a relationship, Jennifer Aniston says she just doesn't know, saying: "I don't know! Good God! You're asking the wrong chick!"
While Jen worked the red carpet alone last night, she and on-again, off-again boyfriend John Mayer reportedly spent Super Bowl Sunday together at a house party in Calabasas.
Comments
comments