Jennifer Aniston wears a black bathrobe for her next scene in her film, The Baster, in New York City on Friday (May 1).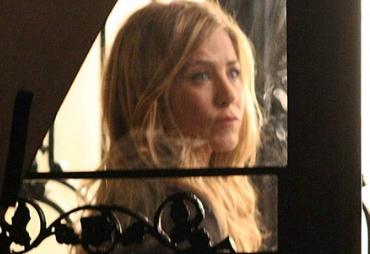 The 40-year old former Friends actress was last seen in a bright purple shirt on Thursday on-set as well.
John Mayer's former squeeze hits the big screen again this fall with co-star Aaron Eckhart. Opening on Sept. 18, Aaron plays a self-help guru who ends up falling for a woman (Jen) who attends his seminar.
Meanwhile, a report claimed that the actress is deeply bitter about ex-John Mayer's PR romp with a much younger woman.
"Jen is hurt and brooding that John rebounded so quickly," according to an insider.
"She went on a rant, telling friends that John should be with such a younger woman – because he's so immature and juvenile."
The Friends beauty and the androgynous Mayer first hooked up in spring 2008.
"At first Jen was amused," said the insider. "But she was humiliated by his inability to hold back any private information."
During his much ballyhooed cruise to Mexico with fans- just weeks after he and Jen's second and final breakup – John stunned her – and the world – by nearly coming out openly admitting to making out with celeb blogger/fame whore Perez Hilton, who frequently disses Jen on his self-absorbed website.
"Jen IS bitter," the insider divulged. "She's alone again and John is getting the last laugh."
Comments
comments