Tom Cruise and wife Katie Holmes sign autographs for fans at the premiere of Star Trek at Grauman's Chinese Theatre in Hollywood.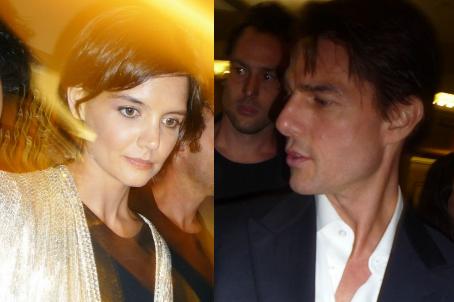 It seems that the celebrity couple skipped the red carpet.
According to a report, Tom has offered to let Katie's recently widowed sister Tammy and her children move into their Beverly Hills mansion. Katie's brother-in-law, 48-year-old Jeff Fretti, died of a heart attack on April 12.
"Katie was so worried and upset for Tammy," an insider reveals. "They are really close, and Katie wanted to help any way she could. Then Tom came up with the idea of inviting Tammy and the boys to live with them. It meant Katie could keep a close watch on her sister and help her through this tough time. Tom really was a savior. He wants Katie to be happy, and he knew this would make it so much easier for her."
The Holmes family was deeply touched that Katie and Tom, as well as Tom's mom, were able to fly to Toledo for the April 20 funeral in spite of their hectic schedules, says another source.
When the burial concluded, Tom and Katie stayed at the grave with Tammy and Jeff's sons, 6-year-old Jack and 8-year-old Joe.
"Katie had her arms around little Jack, and Tom stood with the tearful older boy, Joe, while holding Suri," said the source.
"Katie cried quietly while placing a red rose with a message attached with a ribbon on top of the casket.
"Little Suri had her head buried into her daddy's chest with her baby doll and blanket around her."
Added the insider: "The fact that Tom stepped forward and offered to open his home to Tammy and her boys was a great comfort to Katie, her sister and the entire Holmes family at this difficult time."
Comments
comments