According to a report, Jennifer Aniston's new relationship slowed down before it even starts!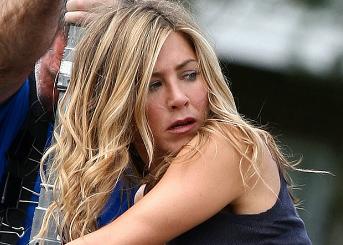 It's back to zero minus one in the dating game for Jennifer Aniston.
After she gave Bradley Cooper her "relationship timeline" speech over an intimate dinner, the Hangover hunk slammed the brakes on their budding romance, sources say.
"Jen is devastated," divulged a longtime friend. "She had high hopes that Bradley was the Mr. Right she's been searching for.
"But he called Jen a few days after their big date and broke the news that he wanted to keep things casual and loose. Jen was mortified, but reluctantly agreed to save face."
The 40-year-old actress and Bradley, 34, had been flirting ever since they shared a dinner date at his Brentwood, Calif., home while they filmed the romantic comedy He's Just Not That Into You in 2007.
Still, Coop publicly blasted rumors he was dating Jen as "hilarious." Despite that, the couple sat down for a headline-making date at New York's Il Cantinori restaurant in New York City on June 18.
"Jen gave Bradley her 'relationship timeline' speech over dinner, about how she wants to be pregnant within the year and for marriage to follow soon after," explained the friend.
That was a deal breaker for the actor, whose 11-month marriage to actress Jennifer Esposito collapsed in 2007.
"He called Jen after he returned to L.A. a few days later, and told her flat out that he thought it best that they go back to being friends. Bradley said he's not looking for any type of commitment."
The next day, "Jen was withdrawn. She'd been up crying to her girlfriends about how she feels her love life is doomed," the insider revealed.
Comments
comments