For someone who purports to be fed up with the media interest in her private life, Jennifer Aniston certainly has a habit of picking movie roles that draw attention to her real-life romantic woes.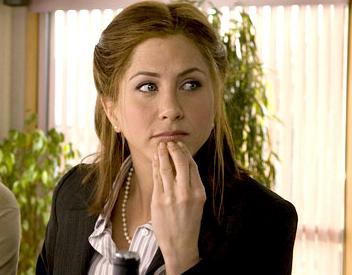 The actress has just signed on for Bounty Hunter, an action thriller that has striking similarities to Mr & Mrs Smith – the flick that effectively ended her marriage to Brad Pitt.
Jen will star as a journalist on the run from her hitman ex-husband – played by beefy Scot Gerard Butler – after he's instructed to kill her.
She explains: "She's a witness to a murder, and the bounty hunter – her ex-husband – is given her as a hit."
It was on the 2005 set of Mr & Mrs Smith that Jen's then-husband Brad met and fell in love with Angelina Jolie.
In that film, Brad and Angelina play rival assassins that try to kill each other before teaming up to defeat the bad guys.
Jen has already been romantically linked to Gerard so maybe she's hoping history will repeat itself?
Meanwhile, putting in a full day's work, Jennifer Aniston kept busy on Monday (May 11) on the New York City set of her new comedy "The Baster".
Changing in and out of various wardrobes throughout the day, the former "Friends" beauty kept bundled up as she headed in and out of her trailer, wearing a snazzy pair of New Balance sneakers to add a little bounce to her step.
Comments
comments