Jennifer Aniston's been through an image change or two since we first got to know her on Friends in the 1990s.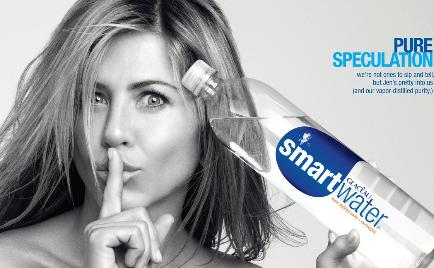 One side of her that we'd never expected: Jen the wild party girl. On Monday's Late Night With Jimmy Fallon, the actress revealed that she was once a big-time club-hopper, frequenting '80s Manhattan hot spots like Danceteria and the notorious all-night club, Palladium — both faves of Madonna in her "Like A Virgin" prime.
"I did have that period," Jen admits to Jimmy on the NBC show, which airs later tonight.
The Management star blushed just a little as she described her favorite partying outfit from back in the day: ripped tights, boots, a police hat (!) and "maybe a bra."
"No one should have let us go outside like that!" winced Jen, who appeared on the show in a more sensible classic black thigh-length dress.
The normally reserved Aniston even told the studio audience that she used to climb up on the podiums around the dancefloor and dance the night away.
Meanwhile, Jennifer Aniston hushes the crowd in the new Glaceau water brand Smartwater Ad. The ad copy reads:
– PURE SPECULATION we're not ones to sip and tell, but Jen's pretty into us (and our vapor distilled purity.)
Last year, Jennifer was featured on a seven-stories tall billboard for Smartwater on Sunset Boulevard in West Hollywood.