Rihanna has sparked rumours she has moved on from her relationship with Chris Brown – she has been snapped getting close to a former lover in her native Barbados.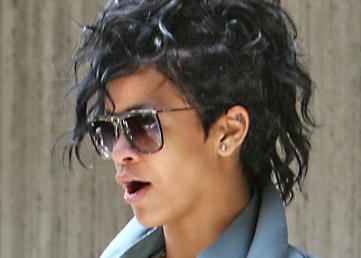 The singers ended their on-off romance earlier this year (09) followinga well-publicized fight in Los Angeles in February (09), which reportedly left Rihanna battered and bruised and Brown facing criminal charges.
But the Umbrella hitmaker, 21, has fueled speculation she has a new man in her life after she was photographed frolicking on the beach with ex-boyfriend Negus Sealy last week (beg27Apr09).
Rihanna reportedly dated the 24-year-old when she was a teenager and is now rumored to have rekindled the romance.
Meanwhile, Rihanna is still maintaining a dignified silence over the Chris Brown business.
Her dad has spilled the beans as he said about Rihanna's thoughts on Chris.
Ronald Fenty said that the 21-year-old singer had barely spoken about Chris, who was accused of assaulting her before the Grammys in February.
"Chris sounds like old news to me," he said, adding that Ri is like "a different person" and is "back to herself."
"It's like Chris never existed. She seems reborn."
Comments
comments