Kate Moss reportedly proposed to new boyfriend Jamie Hince during a night of passion.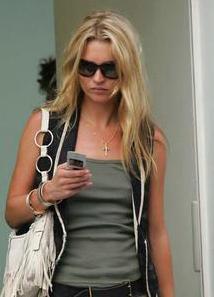 The British supermodel and Jamie Hince are believed to be engaged after Kate Moss popped the question during a 12-hour lovemaking marathon.
A source revealed, "When they surfaced Kate told her friends that she and Jamie were engaged. They had spent the night making love and Kate asked him during that. He was overjoyed because that's what he wanted too. They're clearly totally in love with each other."
However, friends of Kate Moss don't think she'll be married with The Kills rocker in the near future. The source added, "No-one thinks they are actually going to walk down the aisle any time soon – they know it was Kate's way of saying she's serious about him."
Friends also think that the proposal was Kate's way of showing former boyfriend Pete Doherty she has now moved on with her life.
The 33-year-old supermodel was claimed to be devastated after the rocker reportedly cheated on her with South African model. Although Kate ended the relationship, sources claim it took her a long time to get over the split.
Comments
comments