Last week Jennifer Aniston was being taken for a spin (albeit in hand-cuffs) in a Cadillac by hunky co-star Gerard Butler. This week she has been picking up doggy poo.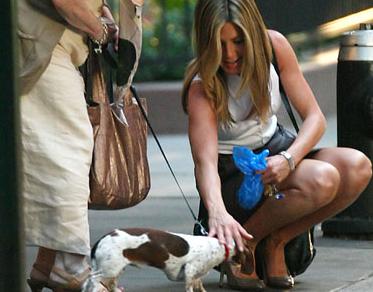 Dressed in a smart grey skirt that showed off plenty of tanned leg, and an white sleeveless shirt with the top buttons undone, the actress looked radiant on the set of new movie The Bounty.
She shoots scenes for her new movie Bounty, helping an elderly woman pick up her dog's poo in New York City's West Village on Thursday (July 18).
The glamorous look was undone slightly when she bent down to help an elderly lady deal with her pooch's poop.
Meanwhile, the actress will take the September 2009 cover of Elle magazine. Jen shows off her pearly whites while wearing a cropped white jacket. Other September cover celebrities include Charlize Theron (Vogue magazine), Jessica Simpson (Glamour magazine), Amanda Seyfried (Allure magazine) and Jennifer Lopez (InStyle magazine).
Comments
comments