Twilight star Robert Pattinson was once again on the set of his latest film in downtown New York on Wednesday, and once again he was sporting more than his share of cuts, bruises and scrapes.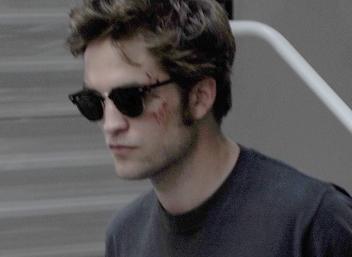 Just a days after looking super-sexy in a suit, Robert Pattinson is back to his bruised and bloody makeup.
Perhaps they're just re-shooting or adding to the previous scenes already shot and that Remember Me hasn't turned into an hour and thirty minute film of Robert Pattinson getting his butt kicked.
Fans will recall that the 23-year-old actor has been battered around once or twice already while filming Remember Me.
Good thing production on the film is drawing to an end—how much more can poor Robert take?
On the other hand, dealing with werewolves will probably be a snap after this experience.
Comments
comments