Jennifer Aniston has sparked pregnancy rumors as she was snapped with a photo, which showed a speculated baby bump.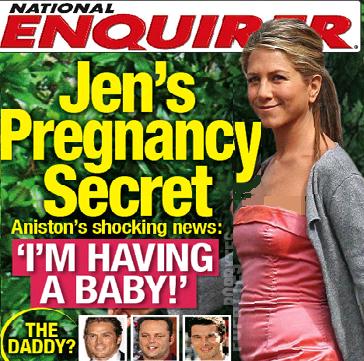 The actress was previously hit the cover of "The National Enquirer" with the inevitable pregnancy story. The said story claimed that Jennifer Aniston is expecting and speculated that the father could be Vince Vaughn, Paul Sculfor or Jason Lewis.
But her representative has already responded to the pregnancy report, saying, "She is not pregnant."
One problem, though the cover implies that the California beauty is with child, the story says that she is ready to have a baby and is ready to get to work on that because she wants to have a baby before she is forty. Of the men mentioned as the possible suitors for Jennifer, the magazine claims that Vince Vaughn has the inside track.
The "Break-up" actress will turn thirty-nine years old in February. So it would appear that she has a few months to make her decision. Jennifer reportedly is in a great mood because there is no drama in her life and she just spent Christmas Day with alleged new beau Jason Lewis, so he may have a shot as well.
She was spotted out the night before with pal Courteney Cox enjoying what was described as a steak dinner and she sipped martinis at Mastro's in Beverly Hills reports Us Weekly Magazine.