Britney Spears, who looked sad and covered up after returning her sons to Kevin Federline, headed to Starbucks coffee shop with a friend.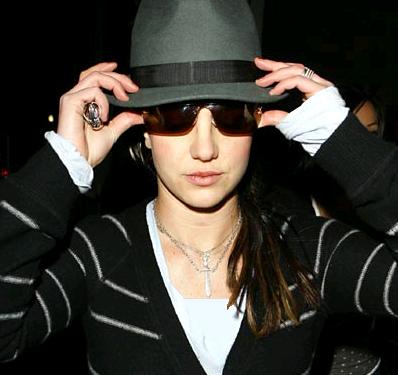 After the troubled pop star had spent a brief two days with her boys over Christmas, she handed her boys to her former husband. The strain of her acrimonious break-up and custody battle was showing as she left the children.
The "Gimme More" singer wore a stripey Christmas cardie, fedora hat and glasses as she walked along looking sad and crossing her arms in a defensive pose.
The 26-year-old singer has been locked in her own bitter custody battle over her sons, after recently losing primary custody to ex-husband Kevin Federline.
The singer also appeared to be struggling with parenthood as she currently has three weekly visits with her sons, including one overnight stay, all supervised by a court-appointed parenting monitor.
Spending Christmas with her boys has been a minor victory for Britney Spears, who has struggled to prove to the court that she is a responsible mother after regularly failing to turn up for mandatory drug tests.