Jennifer Aniston's not wasting any time when it comes to finding a new man. After a failed fling with Bradley Cooper, she's already moved on to her sexy costar Gerard Butler!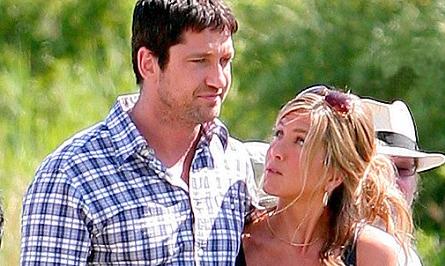 "Let me put it this way," says a source on the New York set of their movie, The Bounty. "They're both hot and single! After they finish a scene, they stick around so they can hang out with each other. Neither is in a rush to leave."
In fact, Jen and Gerard are so affectionate on set, sources tell Star, that they often practice kissing scenes even after the cameras stop rolling! "Jen will say, 'I think we need to do that again,'" the source says. "She says Gerard's a great kisser."
The pair have adjoining trailers, and they've been seen dashing off to Jen's haven for a private "lunch." During one recent visit, Gerard stayed in Jen's trailer for 30 minutes.
And the chemistry doesn't fizzle after work, an insider adds. The new couple have even continued their heated make-out sessions in Gerard's hotel room! But insiders aren't surprised, noting that the romance has been almost a year in the making.
"Gerard's been after Jen ever since they met at the Toronto International Film Festival in September 2008," a source tells Star. "He really has a thing for her. He wants to date her, not just have a fling — or at least that's what he is telling her! He has a reputation for being the biggest cad in Hollywood, and Jen knows that. She said no to him for almost a year, but he never gave up."