It appeared that Christmas came early for David Letterman on Thursday night after Jennifer Aniston stopped by Late Show to pay a visit and gave him a very special gift – the necktie from her sexy GQ cover photo.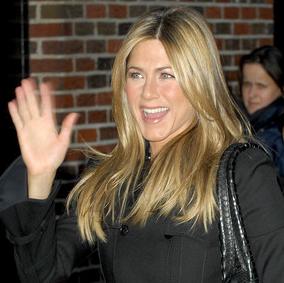 Jennifer Aniston, who visited the show to promote her new film "Marley & Me," revealed: "It's an early Christmas gift."
Quite obviously happy to be receiving the tie – the only piece of clothing Jen wears on the GQ cover –Dave quickly ripped off his necktie and tossed it away. As the band played some classic burlesque-style tunes, Jennifer Aniston aided the talk show legend in getting the tie around his neck.
She laughed: "I'm dressing Dave! That's a historic moment in my career!"
During the show she talked about her dog Norman and her boyfriend John Mayer. The only two creatures in the world luckier than Letterman.
Comments
comments