At first glance there was nothing remarkable about the tired-looking young mother pushing her sons through Hyde Park.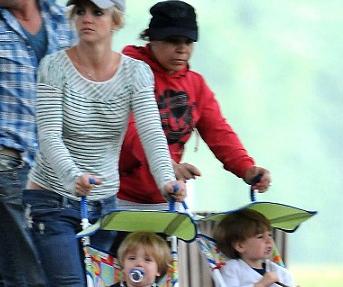 The buggies were low-budget, the children dressed in shorts and t-shirts and their mother dressed down in jeans and a long-sleeved top.
But on closer inspection the blonde hiding beneath her baseball cap was none other than pop star Britney Spears – taking a break from entertaining thousands on her busy Circus tour.
The 27-year-old was with her manager Jason Trawick – recently revealed to be her new boyfriend.
While Britney is in London she is staying at the opulent Mandarin Oriental Hotel, which backs onto Kensington Gardens and Hyde Park.
Her sons are staying elsewhere, while her former husband Kevin Federline is also in London.
He agreed to come along on the tour so that Sean Preston, three, and Jayden James, two, were not separated from their mother for two long.
Britney was even said to be paying him $4,000 a week to travel with her so she could be near them.
This week lawyers for Britney and Federline reportedly filed documents with the U.S. family law Commissioner Scott Gordon, stating they have reached a new temporary custody arrangement.
U.S. gossip website TMZ reported that the family had agreed new custody arrangements for the tour.
Britney will have custody of her sons more than the 50per cent of the time for the rest of June, July and August.
The tour is a family affair for Britney – who is also accompanied by her sister Jamie-Lynn and father Jamie, who is managing her affairs.
Britney is coming to the end of her eight nights performing in London, and next will head to Manchester for one night and Dublin for two on the British leg of her Circus tour.
She will then head to France to continue her high-energy tour in Europe.
Comments
comments