Planning to design her own wedding dress, Jennifer Hudson says she wants a nice and traditional, but very classy gown.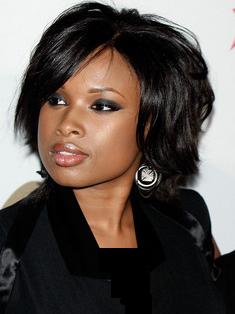 Acting quite open about her plans to wed fiance David Otunga, Jennifer Hudson has revealed that she is planning to design her own wedding dress.
When spilling the beans on her wedding gown concept, the singer-actress said: "I want to design it … Definitely classic, more traditional than anything. I want it to be nice and traditional, but very classy, very classy."
Asked if she and David have set a wedding date, Jennifer answered: "Well, it's a secret date."
On how her nuptials to David would be like, the former "American Idol" finalist explained: "We're both very creative and kind of unique. I don't want to have the same exact wedding as everyone else … Lord, he might come walking down the aisle for all we know."
Giving no clue on the guests she and David will invite to their big day, Jennifer also said that she would love to have her dogs in attendance. "I want my dogs to be in my wedding. I am so serious," she claims, adding that one of her dogs named Oscar "might be the ring bearer or something." As for her two other puppies, Jennifer plans to "send them down the aisle with a little tux or something, a little dress."
A singer herself, Jennifer says she is not yet sure if she will sing at her nuptials. "I sang for everybody else's wedding, I might as well sing for my own," she states. "Actually, that's how I started."
Jennifer Hudson got engaged to actor boyfriend David Otunga during her 27th birthday in September 2008. He reportedly presented her with a Neil Lane diamond ring when proposing. Initially planning to wed in the same year, the pair was forced to postpone their big day after Jennifer's mother, brother, and nephew were murdered back in October 2008.
Last week, Jennifer has also told Ryan Seacrest during a pre-taped performance for a future episode of "American Idol" that she has set a wedding date, but couldn't tell anybody about it because it's a secret.