Jennifer Hudson hit plenty of emotional notes during the 51st annual Grammy Awards.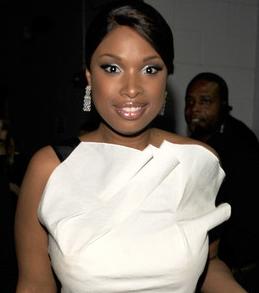 The singer collected the Sunday's first major award, best R&B album for her self-titled debut, making reference to her slain family in a tearful acceptance speech.
She revealed after Whitney Houston handed her the Grammy: "I am just in awe right now."
"Thank God, who brought me through," Hudson, 27, said on the Staples Center stage. "I'd like to thank my family in heaven – and those who are here today."
Hudson also thanked fiancé David Otunga, who revealed before the show, "the last few months have been an ordeal and it just brought us closer," for his support.
Later, the Grammy winner fought back more tears after earning a standing ovation for her power ballad "You Pulled Me Through." Hudson belted out the song in a black, sequined sheath with the backing of a choir. "I was in the darkness. I was out in the cold," she sang. "You reached out your arms to me … pulled me back from the edge."
Hudson kicked off her winning weekend Saturday by covering Neil Diamond's 1969 hit "Holly Holy" at a MusiCares tribute to the singer in Los Angeles.
The weekend before, she wowed fans by singing the national anthem at the Super Bowl.
"It was surreal," she said of the experience on E!'s pre-Grammy special. "So many people, so much gong on… it was too much to take in."
Was all the attention unnerving? She added: "At this point, I have seen so much, there is not much that fazes me anymore."
Comments
comments