Jennifer Hudson's rendition of "The Star-Spangled Banner" at Sunday night's Super Bowl XLIII is now on sale — and proceeds go to a cause especially close to the singer.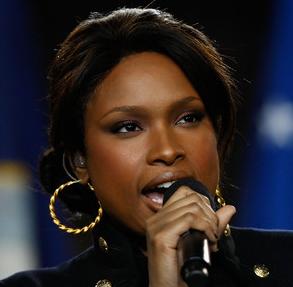 Her version of the National Anthem is now available for sale on iTunes, and a portion of the cost will go to the Hudson-King Foundation, a fund set up in her family's memory to help those families who have lost relatives to violent crime.
Hudson's game-opening song — which she lip-synched to a prerecorded track — was the singer's first public appearance since her devastating family tragedy last October.
Hudson's mother, brother and 7-year-old nephew were shot to death last fall in her Chicago hometown. Her estranged brother-in-law, William Balfour, pleaded not guilty to murder charges on Jan. 20.
Her next national performance will be at the Grammy Awards on Sunday. The singer is nominated for four awards for her debut album. She will also sing at the Grammys' MusiCares event Friday at the Los Angeles Convention Center.
Up next for the Oscar winner?
Hudson is planning her first solo headlining tour in the spring, according to Entertainment Weekly. The national tour will be her first as a solo headliner. Hudson's manager Damien Smith reportedly told EW that the six-week tour will begin in late March or early April.
Her representative revealed: "Jennifer's tour is in discussion."
Comments
comments