It seems Zac Efron loves to wear a signature fedora hat. The "High School Musical 3: Senior Year" star is spotted sporting his fedora as he arrives at Los Angeles International Airport on Tuesday, February 3.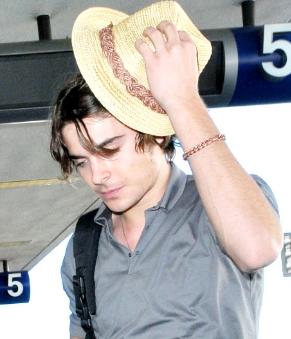 Making his way at LAX, Zac looks casual in his gray t-shirt and jeans. And this isn't the first time he's spotted wearing his fedora. Back in 2007, the 21-year-old actor was seen with it while promoting his film "Hairspray" in New York City.
In other news, designer Kenneth Brown recently revealed that he's designing Zac Efron and Vanessa Hudgens' new Los Angeles homes. "They're complete opposites. If they ever get married, they'll have to have separate houses. He's very modern and she's very traditional," Kenneth said of the couple's design styles.
Comments
comments