Jennifer Lopez, who is said to expect twins with husband Marc Anthony, was claimed to be planning on giving birth in New York on Monday but her representative has been quick to quash reports that the singer is in labor.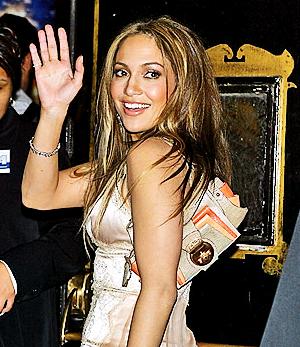 Her representative said, "It's not true. We have been getting the same phone calls since last week. Everybody figures it is happening around now so they have started throwing out the story hoping they will be right and be the one to break the news but it isn't yet."
Earlier this month, the singer celebrated her pregnancy in style by hosting a lavish baby shower at the Gramercy Park Hotel New York City.
Lopez has also hinted that she intends to retire after becoming a mother.
"I don't know – and I like that, because my life has been so planned for so many years" she told Harper's Bazaar. "Once I did the tour, I really just wanted to shut it down."
If Jennifer Lopez does give birth at North Shore University Medical Center she rumored to have luxurious accommodations since reports claim that staffers have been talking about a brand new maternity room, dubbed "the J.Lo room." It is said to feature wood flooring and two flat screen TVs.
Meanwhile, another report claimed that Jennifer Lopez and hubby Marc Anthony have already picked out names for their twins. The couple had chosen Max and Emme as their babies' names.
On Jan. 18, J.Lo's mom, Guadalupe, was spotted picking up two gold-rope baby ID bracelets engraved with those names from Genesis Jewelers in Yorktown Heights, N.Y. Unfortunately for Guadalupe, she wasn't alone in the store, and another shopper heard exactly what she ordered.
Comments
comments