Jennifer Lopez has sparked pregnancy rumors these past few days. A magazine claims that the Latin singer is with child, saying, "Us has confirmed from multiple sources that Lopez is about four months pregnant with her first child.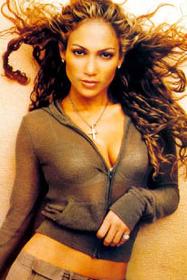 A source revealed that Lopez's mother, Guadalupe "is proudly telling people she's having twins."
Jennifer Lopez has kept her lips sealed during recent public appearances, dancing around questions from interviewers wanting to know if she's singing for two.
After the Latin singer made an appearance on MTV's Total Request Live, Damien Fahey revealed, "I've been around a lot of pregnant women. She walked around like a pregnant woman, sat like a pregnant woman and stood like a pregnant woman. If I were a betting man, I'd definitely bet she was pregnant."
A source added that the 38-year-old singer is ecstatic about the news, saying, "It's a dream come true. She and Marc are over the moon. [Conceiving] was a struggle for her."
Comments
comments