Lindsay Lohan managed to get away from the temptations in Los Angles but the actress isn't missing out on the fun.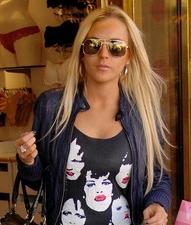 The "Freaky Friday" actress, together with a friend, was seen shopping for Victoria's Secret lingerie on October 11 in Salt Lake City, Utah.
The actress, who wore a 'New York Dolls' t-shirt, blue leather jacket, black stockings and aviator sunglasses, spent half an hour in the store.
Her outpatient program at the Cirque Lodge near Salt Lake City probably includes a lot of retail therapy. It is because in the past two days Lindsay Lohan was spotted at Nordstrom and Best Buy.
Comments
comments