Jessica Alba has banned her family from eating white food.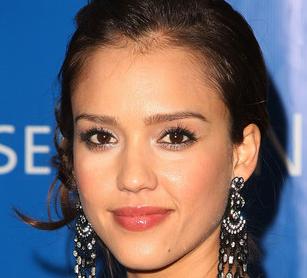 The 27-year-old actress, who has a nine-month-old daughter Honor with her husband Cash Warren, has decided the only way to keep in shape is to stop eating processed foods including white flour and sugar.
A source revealed: "In order for her to stay thin, she needs everyone to be eating how she is. Even at restaurants, Jessica will tell her mom to stay away from something."
Jessica, who quickly snapped back into shape after giving birth, shedding around 40 lbs within a matter of weeks, is making her entire family follow the strict regime because she doesn't want to be surrounded by any temptation.
Jessica is not the only star to embark on a strange diet recently.
Angelina Jolie is reportedly so desperate to shed weight for her role in new spy movie "Salt" she only eats one small pretzel for lunch.
A source explained: "Angelina's assistant went to get her lunch from the movie's craft service. She took a small salted pretzel from a plastic jar and put it on a tray to give to Angelina."
"When I asked if there was anything else I could get for her, maybe a sandwich or a hot meal, Angelina's assistant said, 'Nope. This is all she wants.'"
Comments
comments