Jessica Alba is being investigated over alleged vandalism incidents in Oklahoma City, according to TMZ.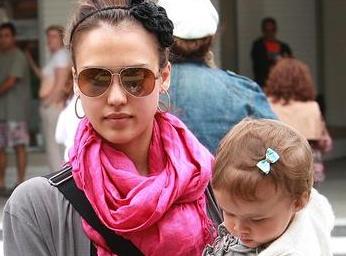 The actress, who has not been named by local police officially, is reportedly under investigation after two blogs reportedly "implicated" the actress in gluing up several posters of great white sharks around the city.
According to the police department's crime report, obtained by Access Hollywood, the shark posters were discovered on at least two electrical boxes by Wendell Whisenhunt of the Parks and Recreation Department of Oklahoma City.
The shark posters were glued to the side of an underpass and on top of a United Way Billboard.
According to the crime report, at least two blogs on the Internet posted photos of the suspect "posing in front of some of the posters."
"Two photos depict this female with a red bucket and what appears to be a bottle of glue," the report notes.
The suspect's name has been blacked out of the crime report, however, in photos which appear on TheLostOgle, a woman that appears to be Alba is seen holding her hands up and smiling in front of the shark poster pasted over the United Way sign.
The same woman is also seen pasting a shark poster on the front of an underpass. In a third photo, she is seen posting up the shark image on a large electrical box.
According to a blog from "White Mike," the posters are being put up to draw attention to the Great White Shark population.
And on June 4, White Mike wrote: " Just came back from OK! Had a blast tagging with a new friend. Check out the pics with Jessica Alba's help here" on his Twitter account, however, the link to the reported images has been removed.
On Tuesday afternoon, Alba issued a statement confirming she was involved in the incident and offering an apology.
"I got involved in something I should have had no part of. I realize that I should have used better judgment and I regret not thinking things through before I made a spontaneous and ill-advised decision to let myself get involved with the people behind this campaign," she said in a statement to Access. "I sincerely apologize to the citizens of Oklahoma City and to the United Way for my involvement in this incident."
Comments
comments