Jessica Alba, a Hollywood actress, has dispelled reports of a split with long-term boyfriend Cash Warren, insisting he is "a great kisser".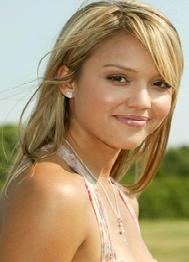 The Fantastic Four star was alleged to have broken off her two-year relationship with film producer Warren last month, when she admitted she wouldn't have children until she has found a "partner".
But the actress brushed off media speculation with talk about her worst screen kisses, before turning her attention to her current beau.
Jessica Alba revealed in the July issue of U.S. magazine Seventeen, "I was 12 years old and had to kiss this guy who was gross and never brushed his teeth. "Then, at 14, I had to kiss a guy who was 32 or 33, and I was like, 'Ewww! I didn't want to do it.' "(But) Cash is the best kisser in the world."