Jessica Alba and George Clooney have been named the "most desired" single celebrities.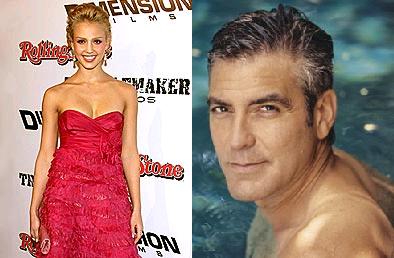 The Hollywood celebrities topped a poll by Internet dating website Yahoo! Personals asking members which celebrity they would most like to romance.
Susan Mernit, a Yahoo! dating expert, revealed, "It is obvious both George Clooney and Jessica Alba are top of people's lists when it comes to 'sexiest celebrity'. In addition to people finding them physically appealing, it doesn't hurt that they have both maintained a clean reputation while living in front of the cameras. That combination is most likely why our survey's respondents find them so desirable."
George Clooney beat the stiff competition from Matthew McConaughey and Kanye West to be crowned Most Desired male.
Jessica Alba took the title of Most Desired female ahead of former 'Friends' star Jennifer Aniston. The female celebrities, who are included in top five of the poll, are 'Hairspray' actress Queen Latifah and 'Irresistible' singer Jessica Simpson.
Yahoo! Personals Most Desired male top five:
1. George Clooney
2. Matthew McConaughey
3. Kanye West
4. Andy Roddick
5. Ricky Martin
Yahoo! Personals Most Desired female top five:
1. Jessica Alba
2. Jennifer Aniston
3. Queen Latifah
4. Jessica Simpson
5. Maria Sharapova
Comments
comments