Jessica Alba, who recently got rumors about her with Derek Jeter, graces the cover of the new issue of Cosmopolitan magazine.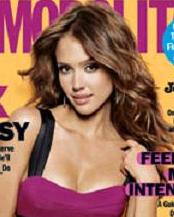 The actress looks incredibly stunning as she wears fuchsia dress and shows a little bit of her leg for the September issue of Cosmopolitan.
In the interview, she did not talk about her recent split or her former boyfriend but she talks about her role in Good Luck Chuck, co-star Dane Cook and her sexiness.
About her role and her co-star, the actress revealed, "I play the biggest dork ever…I've wanted to do comedy my whole career, and Dane really encouraged me just to make an ass of myself."
As for the times that she feels sexy, she added, "I probably feel sexiest after the gym, right out of the shower, in my birthday suit."
The magazine is expected to hit on the newsstand on August 14.
Comments
comments