Jessica Alba took baby Honor Marie to a West Hollywood Park on Friday, January 2.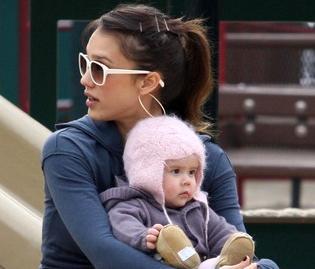 Honor Marie, who is nearly 7-month-old snugly clad baby, appeared delighted to be standing on her own two feet even as her proud and very sexy mom steadied and secured her.
Jessica Alba, 27, looked sporty in a blue hoodie, brown wide leg sweat pants. She accessorized fashionably with blue sneakers, large hoop earrings and white frame glasses. Her brunet hair was styled hassle free in a high pony and the bangs pushed back with pins.
The actress, who recently caused a flutter with her hot and steamy photos in the 2009 Campari calendar, is all set to guest star in an hour long episode of The Office that will air on February 1 on NBC, following the Super Bowl.
Her upcoming films include "An Invisible Sign of My Own" (Filming), "The Killer Inside Me" (Pre-production) and "Sin City 2" (Treatment/Outline).
Meanwhile, Jessica Alba and Honor Marie were also seen at the Coldwater Canyon park in Beverly Hills on Saturday afternoon. Also seen is her husband Cash Warren.
Comments
comments