Jessica Alba, who enjoyed a chilly trip to Utah with fiancé Cash Warren for the Sundance Film Festival, keeps things loose and comfy Friday after stopping by a Whole Foods Market in downtown New York.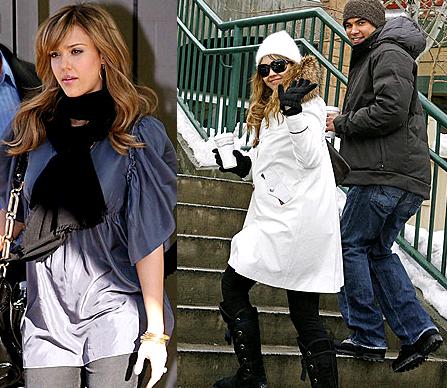 The actress was previously snapped as the photo showed that a paparazzi who worked so hard for the money shot to see Jessica Alba Upskirt, which you could see here.
The pregnant actress was also spotted keeping her bump bundled up Sunday while exploring the Lift, which is home to the famous gifting suites.
The "Fantatstic Four" actress picked up baby booties with her fiancé Cash Warren, who co-produced the festival documentary "Made in America" about gang violence (starring Forest Whitaker).
Hayden Christensen said filming sexy scenes with Jessica Alba was "terrifying".
He revealed that shooting the intimate scenes with the stunning actress was scarier than starring in "Star Wars," saying, "I was just so nervous. Really nervous! Running around with a lightsaber is really pretend, but when you are put in a situation where the scene you are doing becomes so real, it is terrifying!"
Comments
comments