Jessica Alba and Casey Affleck are set to star together in a new movie, and one of them is playing a killer.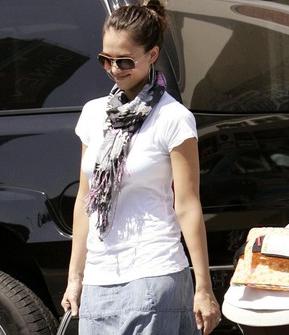 "The Killer Inside Me" plants Casey ("Gone Baby Gone") in the boots of a small-town sheriff who gradually devolves into a stone-cold murderer. Jessica joined him in the flick as a lady of the night, adds the trade.
Based Jim Thompson's suspense novel of the same name, the film will be directed by Michael Winterbottom ('A Mighty Heart').
Filming begins January — right after Jessica wraps up production of Invisible.
Meanwhile, Jessica Alba was spotted while visiting a Korean deli in downtown New York City. The actress was joined by two nannies as she pushed the baby stroller. The happy foursome left with three sandwiches and coffees.
While the "Fantastic Four" star has been busy all month filming scenes for her upcoming movie An Invisible Sign of My Own, the busy working mom has just signed up for a new flick where she plays a prostitute!
Jessica Alba is set to co-star alongside Casey Affleck in a remake of the Hollywood movie "The Killer Inside Me".
Comments
comments