Impending motherhood is proving to be a big threat for pregnant Jessica Alba's romance with fiancé Cash Warren – she keeps throwing him out of their new home.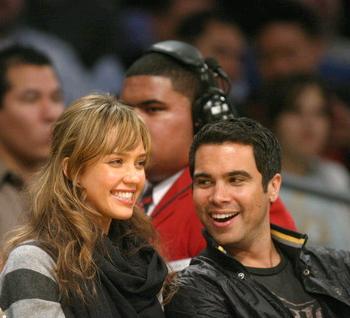 The sexy star admits her emotions are "all over the place" and the slightest thing can turn her into a sobbing, screaming mess.
Unfortunately for Cash Warren, a producer and Internet entrepreneur, he's the target of the actress' rants.
She explained, "I think I threw him out of the house twice already since I've been pregnant, and he's like, 'Are you just pregnant? I hope you're just pregnant and acting crazy,' and I'm like, 'It has nothing to do with that.' "And then we cry and we hug and he's like, 'You're preggers, what do you want?' "Little things get me so mad… He calls five minutes later than he said he was going to. You get so emotional when you're pregnant, and so irrational. It's totally dumb."
Meanwhile, it was reported that Jessica Alba walked out on her fiancé Cash Warren, vowing she'll never have another baby.
Sources say the couple, whose first child is due in May, have been arguing nonstop over nearly every detail of parenthood.
Eventually, sick of the constant conflict, the pregnant star decided to go to the Sundance Film Festival in Utah without her man.
A friend said, "Jessica was so distraught that she fled LA — and Cash — and took off for Sundance alone. She's telling everyone that she just needs time away. It's an act. Jessica's secretly a wreck."
After a few days of being apart, her fiancé eventually decided to follow Jess to Sundance. But it may have been too little, too late.
The source said, "She feels like she's in her pregnancy alone."
Another friend revealed, "They can't agree on anything anymore. Jessica picks a baby name and Cash says 'no way'. Then any name Cash thinks is cool, Jessica thinks is stupid."
The source says before they knew they were going to be parents, Cash and Jess had been struggling to get their relationship back on track. The couple's romance had been rocked by a Russian model's claims Cash was cheating on Jess with her.
The source added, "The baby was a Band-Aid measure. They thought that having a baby together would help."
Comments
comments