Jessica Alba and Hugh Jackman have been voted the sexiest superheroes of all time.
Jessica Alba, who won for her role as Susan Storm in 'The Fantastic Four', beat off stiff competition from 'Daredevil' star Jennifer Garner and 'X-Men' beauty Halle Berry.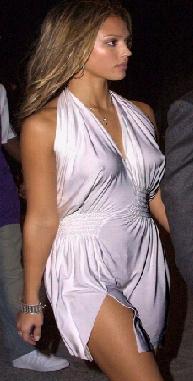 A spokeswoman for Pearl and Dean, the cinema advertisers who conducted the poll, revealed: "It's no surprise that so many people find superheroes sexy in the movies. The combination of toned bodies, incredible powers and the all-important tight-fitting costume on the big screen is too appealing to resist. Although it looks like underpants-over-the-trousers look hasn't worked so well for Superman."
But Jessica recently said she wanted to be admired for her acting ability and not her sex appeal. The actress revealed, "I hope all my new work will help producers in getting past my hotness."
Hugh Jackman was the clear winner in the men's poll for his role as Wolverine in 'X-Men', leaving Batman Christian Bale and Spider-man Tobey Maguire to battle it out for second and third place.
The List of Pearl and Dean's The Sexiest Super-Sexy Heroes Of All!
Sexiest Superheroines:
1. Jessica Alba as Susan Storm – 'Fantastic Four'
2. Jennifer Garner as Elektra – 'Daredevil'/'Elektra'
3. Halle Berry as Storm – 'X-men'
4. Helen Slater as Supergirl – 'Supergirl' and Alicia Silverstone as Batgirl – 'Batman and Robin'
Sexiest Superheroes:
1. Hugh Jackman as Wolverine – 'X-men'
2. Christian Bale as Batman – 'Batman Begins'
3. Tobey Maguire as Spider-man – 'Spider-man'
4. Nicolas Cage as Ghost Rider – 'Ghost Rider'
5. Brandon Routh as Superman – 'Superman Returns'
Comments
comments