In her latest film, Jessica Alba falls into a penguin pond, stabs Dane Cook with a dental tool and accidentally tears off her skirt by closing it in a car door.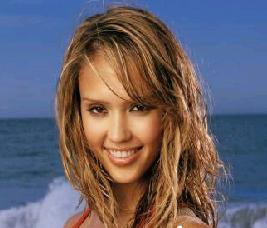 Jessica Alba plays the role of Cam, a clumsy penguin-keeper who captures Cook's heart in "Good Luck Chuck," in theaters Friday.
The role represents a departure for the sexy actress, who gained fame as an action star – first on TV's "Dark Angel," then in films such as "Fantastic Four" and "Sin City."
The 26-year-old actress has talked about her dream career, her love of science and what it's like to be one of the world's sexiest women.
She revealed, "I kind of always had it in my mind. I've always loved entertaining. It's kind of in my blood. My grandmother and grandfather were dancing and singing when they met each other. There's a bunch of theater actors and artists, painters, sculptors in my family. So it's all kind of just been what I've always been around. … I've always really enjoyed it. I've always loved watching movies, the idea of being able to entertain the masses, the power of that. It's just incredible."
She also revealed that she thinks Drew Barrymore as her role model, saying, "Definitely Drew. Definitely. Working with her (on "Never Been Kissed") when I was 16 and seeing how she absolutely loves what she does and is still totally inspired and is opening doors for so many women, yeah, she definitely has been a role model. And so young. She's really terrific."
As for her dream role, she added, "I'm kind of living one now. I have to say, working with Mike Myers and being his leading lady in the film ("The Love Guru"), that's huge. … He's brilliant and I'm really excited about what's happening right now. I try not to think too much about what if I could do this or do that. I kind of like to just take in the moment and go for the ride and enjoy it as much as I possibly can, because in three months it's going to be over and I'll be onto something else."
Comments
comments