She gave birth only three months ago but Hollywood star Jessica Alba was clearly back to her best as she showed off her fabulous post-baby body at an awards ceremony in California.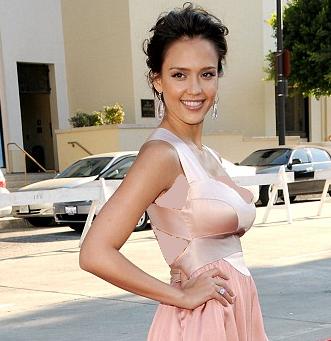 The 27-year-old actress looked stunning in a revealing pink floor-length dress as she attended the annual Latino awards in Los Angeles.
The "Fantastic Four" star, which married sweetheart Cash Warren in May, has shed the pounds since giving birth to daughter Honor Marie in June.
And she chose a backless dress with a plunging neckline pinched in at the bust to show the astonishing full extent of her recovery after giving birth.
The actress seemed to bear an unhappy demeanor throughout her pregnancy – but she wowed photographers with her radiant look, which maybe hints at her recent comments that she is considering adopting a child in the future.
Jessica Alba, who won FHM magazine's Sexiest Woman title, told the Mail on Sunday's You magazine: "I'd like to have as many children as my body will allow – and I'd adopt if I still want more children after that."
She added that her husband of five months shares her views on family, "He wants the same things in life. He wants to adopt and have a big family and believes in marriage forever. It can really happen if we want it to."
The actress met Cash Warren, 29, on the set of Fantastic Four in 2004 where he was a director's assistant. Warren has since moved into producing.
The celebrity couple married in a quiet ceremony at the Beverly Hills courthouse on May 19. Jessica Alba was dressed casually in a flowing blue dress and a ponytail, and sources say that aside from courthouse staff, no one else was present at the ceremony.
Comments
comments