Jessica Biel and Cameron Diaz, stars that are linked to Justin Timberlake, are to be kept apart at the upcoming MTV Movie Awards to prevent a catfight between the love rivals.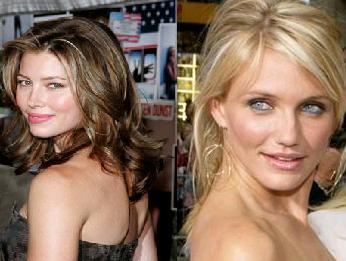 Both actresses are presenting awards. Justin Timberlake, who is former boyfriend of Cameron Diaz and who is now dating Jessica Biel, has been nominated for Best Breakthrough Performance for his film "Alpha Dog."
Organizers are worried the two women could become confrontational if their paths cross.
An insider revealed, "Everyone is determined to keep Cameron and Jessica far apart. It's becoming a big deal because the girls both want separate arrival times. An insider added, "Nobody knows who Cameron is going to bring, if anyone. But if Jessica walks in with Justin, Cameron will want to bring a date. If Jessica goes alone, Cameron will probably walk alone. It's a mess."
Cameron lost her temper at Prince's Golden Globes after-party in January and had a furious argument with Justin Timberlake after she saw him canoodling with Jessica shortly after their split.
The source revealed, "Cameron is used to being more high-profile than Jessica. But now that Jessica's dating Justin, she has more leverage. Cameron's looking a little unstable lately."