Jessica Simpson may not be engaged to Tony Romo but she is considered a part officially of the Dallas Cowboys family.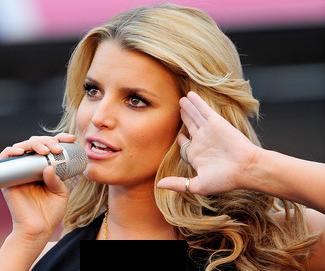 The singer appeared in the 2008 Cowboys Family Cookbook, presented by "the wives of the Dallas Cowboys" ($25).
On page 127, Simpson (who is not photographed) and Romo share their favorite family recipes for a "banana breakfast fruit smoothies" and "no-fat broccoli and cherry tomatoes" (scroll down to read).
The two also show off their funny sides in the book's biographical section, with Simpson listing her occupation as "hairdresser" and Romo stating that he's a "fence builder."
Romo, who lists "U2, Coldplay and AC/DC" as among the artists on his iPod, also revealed that his favorite good is "chicken enchiladas."
His life philosophy? "Every passing moment is another chance to turn it all around!"
And the recipes:
Banana Breakfast Fruit Smoothie
1 banana, peeled, cut into chunks, and frozen
1 teaspoon pure vanilla extract
1 1/2 cups orange juice
1 cup ice
2 scoops vanilla ice cream
Combine all ingredients in a blender. Blend, until smooth.
No-Fat Broccoli and Cherry Tomatoes
1/2 bag Broccoli-Wokly-fresh broccoli florets (about 4 cups)
12 ounces (1 pint) cherry tomatoes, stems removed
3/4 cup chicken broth
1/8 teaspoon each salt and coarsely-ground black pepper
Wash broccoli and tomatoes under running water. Cut broccoli into 3/4-inch pieces. Bring broth to a boil, in a 12-inch skillet, over high heat. Add broccoli, salt, and pepper; cook for 2 minutes, stirring occasionally. Push broccoli to edges of skillet, and add tomatoes to center. Cook for 2 minutes, to heat through, shaking pan gently to turn tomatoes. Do not overcook tomatoes, if skin split, tomatoes will be too soft. Season, to taste, and serve.
Meanwhile, the proceeds from this book help to pay for the daily care of at-risk children who live in the Dallas Cowboys Courage House at Happy Hill Farm Academy/Home. The Dallas Cowboys receive nothing from the proceeds of this book except for the personal joy and satisfaction that comes from helping children in need.
Comments
comments