Is it a country music star feud in the making? First, Jessica Simpson wore a shirt that said "Real Girls Eat Meat," with some claiming it was a dig at her beau Tony Romo's vegetarian former lover Carrie Underwood, then just recently Carrie revealed that Tony was still calling her.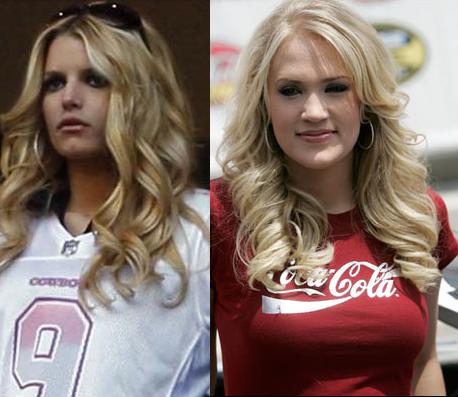 But Jessica Simpson addressed that claim when she visited Nashville's 107.5 FM's Woody and Jim show.
When asked about it, she revealed: "Tony and I both laughed at that. We got a chuckle out of that."
Jessica Simpson goes on to say that Carrie's statements are false. "I know it's not [true] — I looked at his call log. I'm kidding!"
Meanwhile, the singer is now selling beer. The singer and actress has signed on as spokeswoman for Stampede Light Plus, made by Dallas' Stampede Brewing Co.
Jessica Simpson will appear in ads in stores for the beer and is taking a 15 percent stake in the brewer. The Dallas Morning News says terms were not disclosed.
Lawrence Schwartz, Stampede's president and chief executive, says Simpson is the now face of the brand.
Jessica Simpson revealed in a statement that as an entrepreneur she's "always looking for ways to diversify my portfolio with good ideas and good people."
Stampede Light bills itself as a beer for active people.
Comments
comments